I made some almond-oat energy bites today. They are one of my favorite snacks to make!




It's raw and you can add in your own variations.

Go to my Flickr page for the full recipe.

In the variation for today I added some maple-almond granola in with the rolled oats. And instead of raisins I used dried cherries and semi-sweet chocolate chips. So my energy balls aren't really raw today.




I chopped the dried cherries and chocolate chips with a knife so it would mix in well with the oats and nuts, but still have a few chunks.

I also omitted the honey because I didn't have any (oops!). I kept the two tablespoons of agave and the almond butter was kinda runny. So my mix stayed together fine without the honey.




I really don't like too much honey on my granola bars. It's too sweet. So I'm glad I didn't have any honey. My intentions was to hold back on the honey and agave anyway sine the maple-almond granola was sweet. So it worked out fine for me.

Once you get all of your ingredients together you need to make your balls. No baking.




A tip is to put the bowl of the mixture in the freezer for about 30 minutes. Take it out of the freezer. Put the mix in your hands and make a fist, alternating hands to make the ball. Do not roll the ball in your hands or it'll fall apart.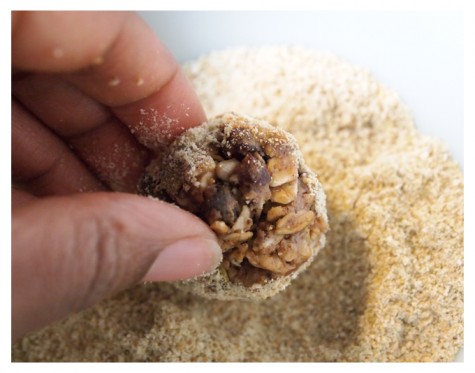 Then dip your ball into the oatmeal and pumpkin seed powder. (I added the maple-almond granola mixture into my powder).

VOILA! You're all done.




Keep the almond-oat energy balls refrigerated.

Have fun making your variation!
Jeanee
in
DIY,
eats
9 Comments